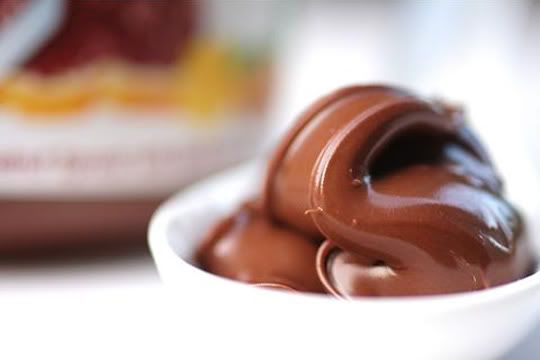 From eating straight from a spoon, on plain white bread, or more elaborated Nutella Banana Crepes (which is still my favorite street eat on the street of Paris), seriously there is no bad combination with this silky hazelnut spread. (Seriously, if I could, I would choose this over Le Mer as face crème! Cocoa has good antioxidant right?)
Speaking of favorite Parisian good eats, Nutella Macaron is the love child of my favorite confectionaries from the city of Light (& butter)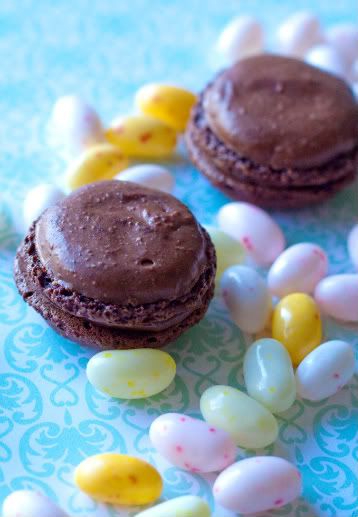 Makes about 16
90gr egg whites
50gr granulated sugar
200gr powdered sugar (minus 2 Tb)
110gr Almonds Flour
(or you can use Ground Hazelnut for more Hazelnut flavor)
2 Tb Cocoa Power (Dutch Processed recommended)
For the whites: 24 hours prior, separate your eggs and store the whites at room temperature in a covered container. If you want to use 48hrs (or more) egg whites, you can store them in the fridge.
In a stand mixer fitted with the whisk attachment, whip the egg whites to a foam, gradually add the sugar until you obtain a glossy meringue.
Combine the grounded nuts, cocoa powder and powdered sugar in a food processor pause to combine & remove lumps.
Add dry mixture to the meringue, give it a quick fold to break some of the air and then fold the mass carefully until you obtain a batter that flows like magma or a thick ribbon. Give quick strokes at first to break the mass and slow down. (should not take more than 50 strokes. )
Fill a pastry bag fitted with a plain tip (Ateco #807 or #809) with the batter and pipe small rounds (1.5 inches in diameter) onto parchment paper baking sheets.
Preheat the oven to 300F. Let the Macarons sit out for 30 mins – 1 hour to harden their shells. This step is crucial to have the "pie" at base of each of Macarons.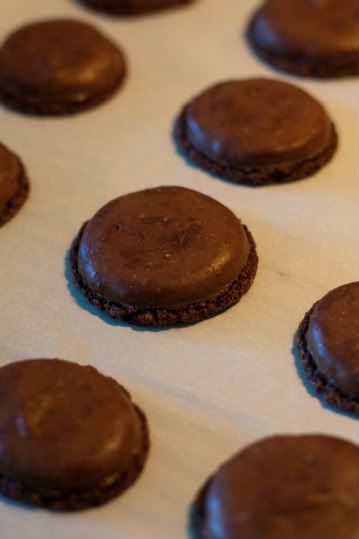 Bake for 8-10 minutes. Let cool.
To assemble Macarons, sandwich about 1 teaspoon of Nutella between each cookie
For more "dressed up" Macarons, sprinkle some cocoa powder lightly on top

Kate for F3